Seminar on Condensed Matter Theory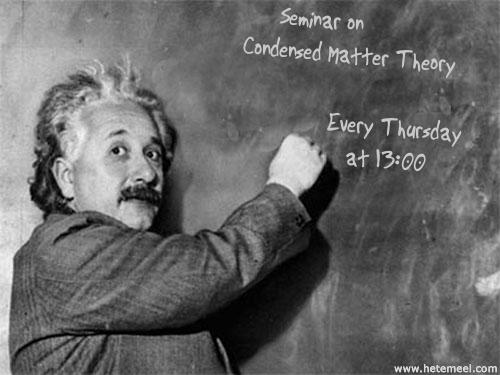 Group of Theoretical Physics organizes a regular seminar on theory of condensed matter physics. Usually, we meet
every Thursdays at 13:00
in seminar room F 052


Ke Karlovu 5, 121 16 Praha 2
You are welcome to join us!
If you wish to receive regular updates on fothcoming seminars, contact T. Novotný.
Next seminar
Thursday 28 March 2019 at 13:00 in Seminar room F052
Institute of Physics, Academy of Sciences of the Czech Republic
Mean-field theories for many-body systems II: Reduced parquet equations in quantum criticality
working version
The abstract is not available yet. It will be added soon.
Forthcoming seminars
28 March 2019

11 April 2019

25 April 2019

9 May 2019

16 May 2019

23 May 2019